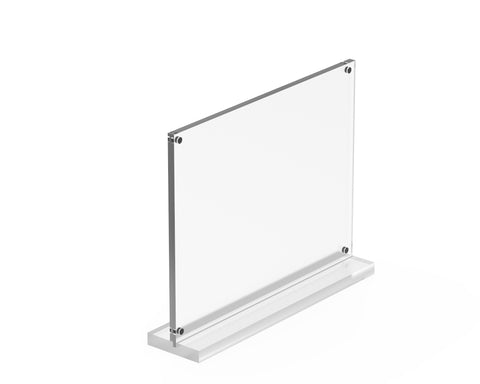 Acrylic Photo Frame With Stand And Magnets 8.50"x 6.50" 18607
FixtureDisplays Acrylic Photo Frame with Stand and Magnets 8.50"x 6.50" 18607.
RECORD YOUR PRECIOUS MOMENTS: Displaying your precious memory with this frame at your home or work. Also it makes a perfect gift for your loved ones.
DOUBLE SIDED DISPLAY: Display on both sides! This Acrylic Picture Frame comes with Magnetic Closure. Double sided. Great for displaying baby photo, family photos, post cards, ticket stubs, trading cards, currency, awards etc.
FINE WORKMANSHIP: Carefully crafted for brilliant presentation.
Max media size: 8.50" L x 6.50" Tall. Magnets are 0.28" to edge. Acrylic clear panel is 1/8" thick. Two panels total 1/4".
Base measurements: 8.50" L x 2.00" W, 0.4" (10mm) thick. <br>Color: Transparent, clear. Weight: 0.8 lbs (0.39kg).