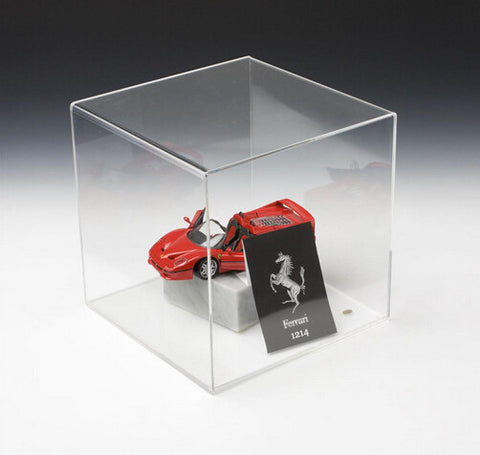 Model Display Case Lift-Off Top Clear Acrylic Showcase Cellphone Glorifier Box 19379
Memorabilia Display Cases Come with a Removable Riser
Translucent finish easily blends into any environment.
Comes with a riser for displaying round items.
Affordable way to display collectibles while keeping them safe from mishandling.
Description
These countertop acrylic holders, memorabilia display cases are designed to present a variety of items. This product can be used to showcase items such as autograph basketballs, model cars, jewelry, antiques and other types of sports displays. These collectibles displays, memorabilia display cases are beautifully constructed from 1/8" thick acrylic for durability, ensuring these store fixtures will last for a long time. These football showcases give a clear view of the displayed items, and are great for placement on a countertop. Retail stores often use these memorabilia display cases on their counters to showcase individual items, such as a jersey with an autograph. Stores selling sports memorabilia also find these cubes useful, as they can be used to safely showcase collectibles item on a countertop for customers to see. These memorabilia display cases, like basketball holders, include a removable acrylic riser included for displaying any round objects. Users can also remove the round ring from the football cases to hold flat-base items as well. Items with a sports player's autograph instantly become collectibles, and should be stored in a safe place, such as within these memorabilia display cases.
These jersey displays are not only used to treasure valuables or collectibles. These products can also be used to showcase various other items or accessories. These countertop showcases, memorabilia display cases are the perfect choice for keeping collectibles with an autograph safe and protected for many years. Featuring an open top lid, each acrylic cube permits fast and easy access to the displayed items. Simply lift off the top of the memorabilia display cases, place the object on the base and cover with the lid. These countertop cubes for collectibles feature a simple design, making them perfect for use within any setting. These football displays, memorabilia display cases are generally seen used in museums, schools, homes, libraries and retail stores.
Specifications
SKU DPCAB006
Overall Width x Height x Depth 10.1" x 10.3" x 10.1"
Weight 3.0lbs
Material Acrylic
Color Clear
Placement Style Counter / Tabletop
Loading / Door Style Lift-Off Top
Inside Width x Height x Depth 9.9" x 10.0" x 9.9"
Common Size (w x h x d) 10" x 10" x 10"
Ordering Information
In Stock
Order by 1:00 PM Eastern Time US for same day shipping.
Minimum Order Quantity
We are unable to accept orders for less than 2 units.