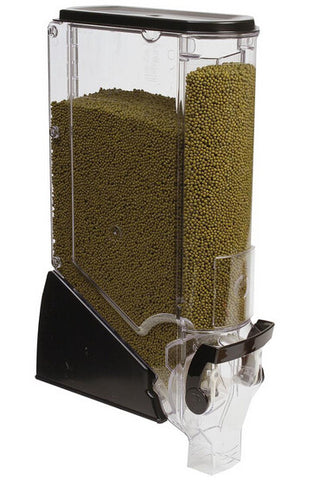 4PK 5 Gallon Food Dispenser w/ Label Holder, Continuous Flow - Black 19515
Gravity fed design with continuous flow quickly dispenses dry goods.
Pull down handle for ease of use.5 Gallon capacity is ideal for popular food items to ensure fewer replenishments.
Dishwasher safe up to 130??F for quick & easy cleaning.Angled bottom design for "irst in, first out" serving method to ensure food freshness.
Dry Food Dispensers are Constructed from PolycarbonateThese dry food dispensers, also known as gravity bins, have a large capacity.
The bulk container can fit up to (5) gallons of candy.
These dry food dispensers that are made of polycarbonate are constructed for lasting use.
The gravity bin is 35 times stronger than cheaper acrylic containers.
These dry food dispensers that are dishwasher safe up to 130??F are quick and easy to clean.
This food container is 24"tall.
These dry food dispensers that have a small footprint of just 6"w x 11"d can fit several bins on a retail shelf.
Each container can hold different kinds of items, such as, cereal, coffee, beans, grains, candy, and more!
These retail store fixtures, dry food dispensers have a false front enabling the display to look full at all times.
The gravity bin has a front label holder.
These dry food dispensers sign frames are glare free for easy reading.
This bulk container has multiple flow settings to help reduce waste.
These dry food dispensers have the hardware to secure the bin to shelving.
The store fixture has slanted bottom for a first in, first out system to help maintain freshness.
These dry food dispensers have continuous flow when the handle is pulled down.
The displays' black base and clear bin can easily blend into most retail environments.
SpecificationsOverall Width x Height x Depth 6.0" x 24.0" x 11.0"Weight 3.5lbsMaterial PolycarbonateColor BlackPlacement Style Counter / TabletopLoading / Door Style Lift Open / HingedCapacity (gallons) 5.0galOrdering InformationIn StockDelayed ShipmentProduct does NOT ship on a same day basis.
Please add 4 business day(s) when determining the lead time..