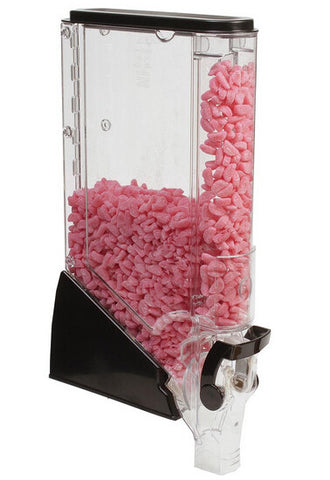 3.3 Gallon Food Dispenser w/ Label Holder, Continuous Flow - Black 19516
Gravity fed design for continuous flow of dry goods.
Pull-down handle for ease of use.
Dishwasher safe up to 130??F for quick & easy cleaning.
Polycarbonate construction is stronger than cheaper acrylic designs for longevity.
Capacity of 3.3 gallons for less replenishing.
Dry Dispenser has Multiple Flow Settings
This dry dispenser, also called a bulk food bin, has a large capacity of 3.3 gallons. The container comes with a false front, to give the appearance the display is full at all times. Each dry dispenser that is made to last is constructed from polycarbonate. The gravity bin is stronger and more durable"han cheaper acrylic fixtures. This dry dispenser that has a label front can hold an information card or a price sign for labeling the products inside. The retail fixture's sign holder is glare free for easy viewing. Each dry dispenser that easily assembles takes just minutes to set up for quick use. This gravity bin can be used in cafeterias, to hold several different kinds