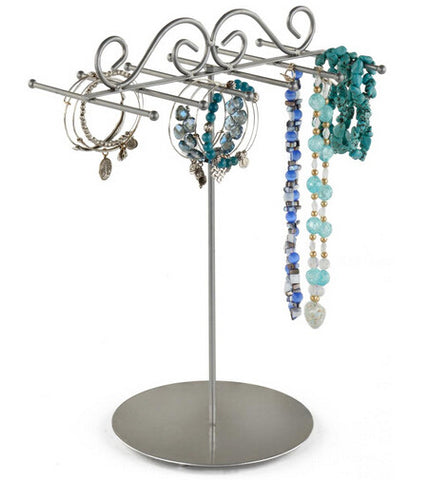 11.0" x 14.5" x 6.0", Jewelry Display with 6 Double Sided Bars for Bracelets or Chains - Silver 19332
Metal Necklace Stand with 6 Double Sided Bars
Steel Construction
6 Hanging Bars
Double Sided
Scroll-like Details
Description
This metal necklace stand has 6 double-sided hanging bars for draping jewelry and keeping it organized and free from tangles. The tabletop display measures 14.5 inches tall and includes decorative, scroll-like details along the top of the fixture. This steel necklace stand has a simple design that can accommodate a wide variety of jewelry pieces and accessories, including necklaces, bracelets, scarves and watches. The solid steel construction makes this jewelry display ideally meant for use in retail settings.
Specifications
SKU MJDNH6BSV
Overall Width x Height x Depth 11.0" x 14.5" x 6.0"
Weight 1.0lbs
Material Steel
Color Silver
Placement Style Counter / Tabletop
Number of Tiers 6.0
Ordering Information
We expect to have more in stock within 60-90 days.
Case Pack
A packaging fee of $10.00 per order will be applied to any order not placed in case denominations of 2 units.
Note: This fee is only applied once per order.