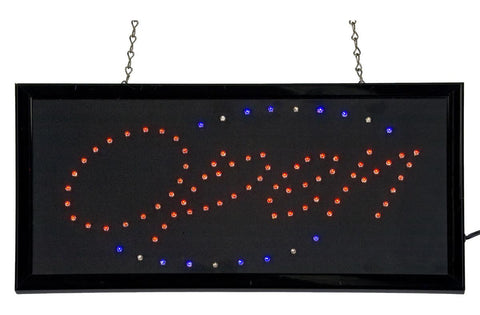 "OPEN" Animated LED Sign with Hanging Chain, Rectangular - Red Blue 19535
Open Sign with Red Lettering & Blue Animation
Steady red lights spell out OPEN with blinking blue border at the top and bottom.
Affordably constructed with a low density of LED light bulbs and open-face design.
(1) 39" Chain for hanging the OPEN sign in windows.
45"l Power cord has an on/off switch for quickly turning off lights when closing.
Semi-gloss, plastic frame and matte black backer help the lighting appear brighter.
This open sign will draw customers to your business. The illuminated signage lights up brightly to catch drive-by and walking customers. This window display, open sign features a steady red lettering that spells out OPEN with a blue animated border at the top and bottom. An illuminated window display, like the one seen here, ensures text pops-out from the black textured background and plastic frame. This illuminated light-box, open sign that has an open face design is constructed for indoor use. Do not let the unit have any contact with moisture or liquid. A LED open sign, such as this illuminated display, can be hung on the doorway or behind store front windows to entice customers to enter. Each unit is engineered with light emitting diodes bulbs that consume less energy compare to similar neon displays. Therefore, businesses can utilize the open sign that uses LED lighting all day long without spending much on electricity. This window signage is bright and easy to read, ensuring customers can view the message from a distance.
This window display can be seen from a passing car, capturing the attention of potential customers. By displaying this open sign that is inexpensive in a window or doorway, it also helps inform customers that the establishment is ready for business. So what makes this product such an incredible deal? This illuminated signage uses low density LEDs. Unlike other neon light boxes, this window display does not come with a glass or plastic lens. Therefore, for budgeted shoppers, this illuminated signage is an ideal option. The purchase of this product includes a hanging chain and a power adapter. There is also an ON/OFF switch on the cord for users to easily turn the unit off after it is connected to an outlet. This illuminate signage is sold in other designs as well (see related products on the right for more options). Purchase this window display at a low price from this online e-store today!
Specifications
Overall Width x Height x Depth 18.9" x 9.5" x 0.625"
Material Plastic
Placement Style Hanging
Message Open
Orientation Landscape
Light Type LED
Features Illuminated, Animation
Power Cord Length 45.0"
Length of Chain / Wire 39.0"
Ordering Information
In Stock
Order by 1:00 PM Eastern Time US for same day shipping.
Minimum Order Quantity
We are unable to accept orders for less than 2 units.