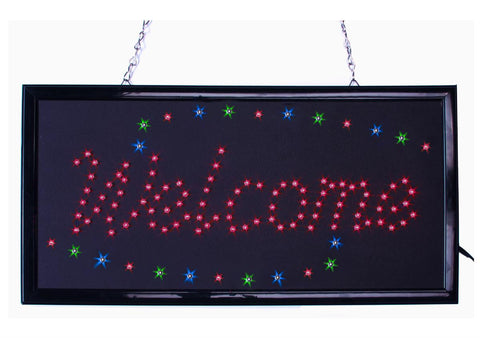 "Welcome" Animated LED Sign with Hanging Chain, Rectangular - Red 19536
Welcome Led Sign with Animated Red, Blue and Green Lights
This product is on overstock sale. Enjoy limited time savings!
Features a steady, red WELCOME message with 3 different color flashing lights at the top and bottom.
Includes mounting hooks and a hanging chain for easy installation.
Low density of LED light bulbs and open-faced design results in a low price point.
Plastic frame has a semi-gloss sheen to contrast with the matte black backer.
This welcome led sign is an effective tool for any businesses. An animated window display, like the one seen here, invites drive-by and walk-by customers to come into your establishments. This rectangular welcome led sign that lights up also helps let customers know that your establishment is ready for business. The animated display provides bright lights that are sure to catch the eyes of potential customers. This light-up business signage, welcome led sign features a steady red WELCOME message followed by 3 different color blinking illuminations at the top and bottom. The window sign is highly visible, even in daylight. This animated display, welcome led sign lights up with (light emitting diode) bulbs that are bright and consume less electricity compare to neon signs, which helps business owners control electric costs. The window signage can be turned on all day without using much energy.
This welcome led sign that is inexpensive is engineered for interior use. Businesses can hang the animated display in a store window or door to be easily seen by passersby outside. This energy-saving welcome led sign, such as open signage and animated business display, will catch the eyes of potential customers from a long distance. Made with a slim profile and lightweight design, this signage is ideal for hanging in a large or small window without much space. So what makes this welcome led sign that hangs so affordable? This illuminated window display is made from glossy plastic frame with a textured chip backboard. It has an open-face design with no plastic or glass lens included. Other than the fabrication, this animated signage has the same features as other open signs. There is an ON/OFF switch located on the cord for users to easily turn the lights "ON" or "OFF". Plug these illuminate signage displays in and watch the message light up. These super bright window displays are a must-have for any restaurant, bar, retailer or store. A chain and wall-mounting hooks are included.
Specifications
Overall Width x Height x Depth 18.9" x 9.5" x 0.625"
Material Plastic
Placement Style Hanging
Message Welcome
Orientation Landscape
Light Type LED
Features Illuminated, Animation
Power Cord Length 45.0"
Length of Chain / Wire 39.0"
Ordering Information
In Stock
Order by 1:00 PM Eastern Time US for same day shipping.