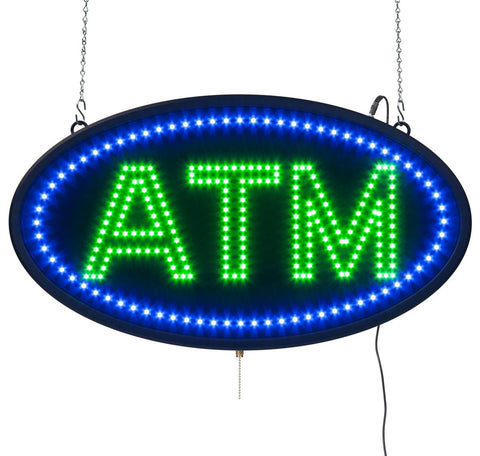 "ATM" Animated LED Sign with Hanging Chain, Round Green Blue 19562
LED ATM Signs Featuring Oval Profile and Multicolored Displays
This product is on overstock sale. Enjoy limited time savings!
3 different effects to suit the tastes of business owners!
Ships with easy-hang hardware set for customer's convenience!
Sturdy construction lasts for years!
Having an automatic teller machine on the premises of an establishment is one of the greatest services that can be offered to a visitor or customer. These LED ATM signs with an oval profile feature a clear, well lit display customers will not be able to miss! Neon colored green and blue lights attract the eye and direct visitors. These LED ATM signs that display indoors are designed to be used in windows and seen by passersby on the street. However, these illuminated displays will look equally good displayed on a wall in the vicinity of a cash machine. These portable LED ATM signs, also known as animated signage, are suitable for a wide variety of businesses like banks, convenience stores, pubs, office buildings, and many more.
Animated displays offer lots of appealing characteristics for their owners. This neon bank signage, LED ATM signs that feature an oval shape have three oscillation modes to choose from. The first mode is a steadily on mode without flashing, scrolling, or any other movement. The second mode has the individual letters chasing and then flashing while the blue border is constantly chasing. The final mode has the word flashing and the blue border chasing. These non-scrolling bank signage that display on chains are shipped from the manufacturer with a 12 Volt adapter and a hanging hardware set to make displaying the signage quick and easy!
Specifications
Overall Width x Height x Depth 27.0" x 15.0" x 1.8"
Material Plastic
Placement Style Hanging
Message ATM
Orientation Landscape
Light Type LED
Features Illuminated, Animation
Ordering Information
In Stock
Order by 1:00 PM Eastern Time US for same day shipping.