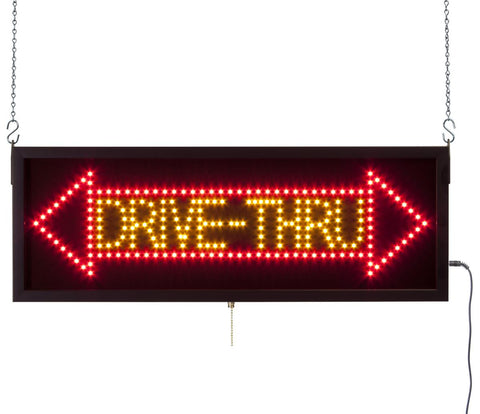 "DRIVE-THRU" Animated LED Sign with Hanging Chain, Rectangular - Yellow Red 19573
Drive Thru LED Sign With Two-Color Oscillating Lights
Easy-Hang Hardware Included For Convenience!
Multidirectional Display for Versatility!
Features Flashing and Chasing Settings To Give Purchasers Options!
Businesses looking for an animated drive thru LED sign need not look any further! This neon flashing window display can be seen from a passing car, capturing the attention of the target audience! This programmable drive thru LED sign features a bright neon, animated face that can't be missed. Users can set the animation to have the arrow point left, point right, or to have both arrows on. This eye-catching, illuminated display is perfect for use in places wanting to advertise that they have a pick-up window for customers' convenience, like donut and coffee shops, fast food restaurants, and more. This animated restaurant supply, drive thru LED sign that features an interior display is viewable from the street. This protects the eye-catching neon signage from inclement weather, while still being able to advertise for years to come.
This flashing display offers plenty of features to distinguish it from other options on the market. This drive thru LED sign that has a black frame, also known as an LED display, is engineered to be sturdy and lasting. Hardware is included for hanging, as well. This drive thru LED sign that is multidirectional sports three different light patterns for maximum versatility. The first pattern is steady and consistently on, without any flashing or animation. The second and third patterns feature the words chasing and flashing, however only one arrow is in use for each pattern (please see video below for more details).
Specifications
Overall Width x Height x Depth 27.5" x 10.0" x 1.8"
Material Plastic
Placement Style Hanging
Message Drive-Thru
Orientation Landscape
Light Type LED
Features Illuminated, Animation
Ordering Information
In Stock
Order by 1:00 PM Eastern Time US for same day shipping.