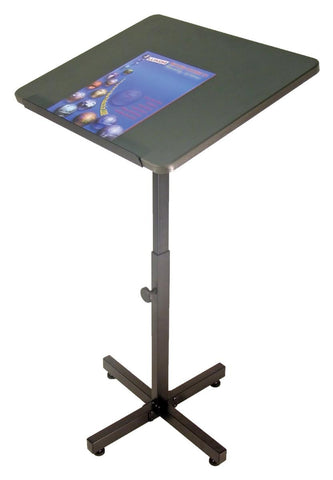 20" Height-Adjustable Music Stand with Extra Large Reading Surface, Steel - Dark Gray 119690
Extra large desk top surface
4 Adjustable feet provide stability on uneven flooring
Dark gray desk top hides pencil and pen marksDescription
Adjustable Speaker Stand with Dark Gray Finish
This adjustable speaker stand, or sheet music stand, has an extra-large laminated, dark gray top. Laminate is a material that creates a strong and durable surface that is stain and scratch resistant. This dark gray desktop provides a surface that hides pen and pencil marks well. There is a 1/4" lip on the reading surface prevents notes from sliding off. This presentation lectern, conductor stand can be adjusted to a comfortable height for most orators. This podium's height can be adjusted by simply loosening the adjusting knob on the steel center post, raising or lowering the reading surface and retightening the knob. The overall height range of this presentation podium is 33" to 47-1/2" high.
This music conductor podium has four feet to provide stability anywhere the lectern is used. The feet on each individual leg can be adjusted to accommodate presenting outside or on uneven ground. This adjustable speaker stand, such as presentation podium is ideal for small classrooms or meeting rooms with limited floor space. To reduce shipping costs, these presentation stands ship unassembled.
Ships Ground
Specifications
SKU LCSLGGRAY
Overall Width x Depth 20.0" x 16.5"
Overall Height Range, (inches) 33.0, 47.5
Weight 15.0lbs
Material Steel
Color Black
Placement Style Floor Standing
Features Adjustable Height
Top Surface Width x Depth 20.0" x 16.5"