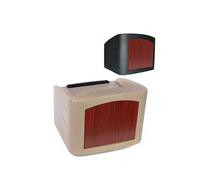 Replacement Front Panel for Outdoor Table Top Podiums - Cherry 119656
Front Panel ONLY
Easy to Change
1/8" ABS Plastic MaterialDescription
Replacement Front Panel in Cherry for Tabletop Lecterns
This replacement front panel is for exclusive use with our collection of tabletop lecterns. The 1/8¡± ABS plastic insert is available in an attractive Cherry-colored finish that matches any d¨¦cor. This replacement front panel is incredibly easy to install, by simply removing decorative hardware that came with your tabletop podium.
Specifications
SKU TBLCAMINSC
Overall Width x Height x Depth 17.7" 13.8" x 0.125"
Weight 4.5lbs
Material Plastic
Color Cherry
Features Outdoor..