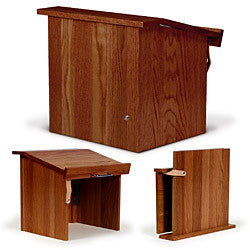 14" Tabletop Portable Podium with Folding Design, Oak Wood - Dark Stain 19601
Portable Tabletop Lectern Dark Finish
Small Size
Folding Design for Portability
This portable tabletop lectern is great for conferences, presentations and other temporary events. The folding design and built-in handle make transport and storage simple and convenient. The tabletop lectern is 12.5" tall when assembled and has a 14" x 12" top shelf with a 1/2" lip. The lip holds papers and notes in place on the top surface. When folded, the portable lectern measures 14" x 12.5" x 3.5". The podium is constructed of oak and has a dark finish that protects the wood.
Specifications
Overall Width x Height x Depth 14.0" x 12.5" x 13.0"
Collapsed Width x Height x Depth 14.0" x 3.5" x 12.0"
Material Wood
Color Dark Oak
Placement Style Counter / Tabletop
Features Portable
Top Surface Width x Depth 14.0" x 12.0"
Book Stop Depth 0.50"