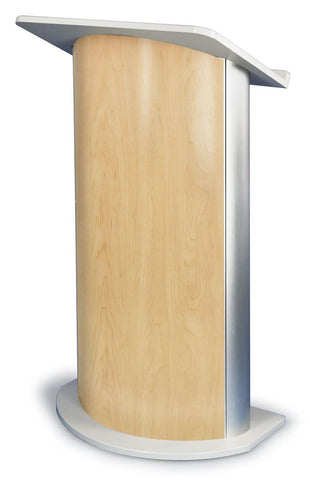 26.75" Curved Podium for Floor, 47.25" tall, Aluminum MDF - Silver with Maple Panel 19619
Curved Podiums- Hard Rock Maple with Satin Anodized Aluminum
26.75-inch-wide Large Reading Surface
Curved Front for Added Style
Neutral Maple Front Panel
Hidden Acrylic Shelf
Stylish Hard Rock Maple Podiums- traditional feel with a modern look, perfect for any church or meeting place. These stylish speaker's podiums sport a curved hard rock maple front and flat rear panel. The spacious reading shelf (26.75"W x 17.5"D) provides all the room you need to deliver that incredible presentation. The gray reading shelf and sturdy base (26.75"W x 17.5"D) are made from medium density fiberboard (MDF) for great looks and long life. The satin anodized aluminum sides complete the look of these 47.25" tall podiums and feature a channel that allows the front and rear panels to easily snap in. Included in the box is an acrylic shelf which provides an out of sight place to keep that beverage.
Specifications
Overall Width x Height x Depth 26.8" x 47.3" x 17.5"
Weight 85.0lbs
Material Laminated MDF, Aluminum
Color Silver
Secondary Color Hard Rock Maple
Placement Style Floor Standing
Features Curved
Top Surface Width x Depth 26.8" x 17.5"
Ordering Information
In Stock
Order by 1:00 PM Eastern Time US for same day shipping.
Truck/Freight Shipping Required
Due to the size and/or weight standard shipping is not available. Depending on the method selected please allow 2-14 business days for delivery.