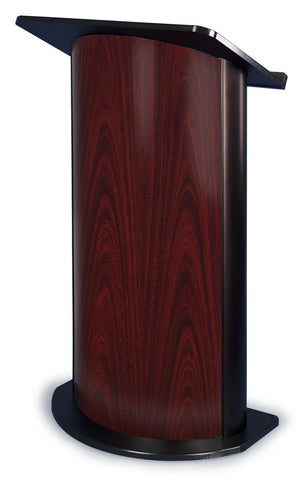 26-3/4" Curved Podium for Floor, Aluminum and MDF - Black with Mahogany Panel 19620
Curved Podiums - Jewel Mahogany with Black Anodized Aluminum
This product is on overstock sale. Enjoy limited time savings!
Curved Jewel Mahogany Front Panel
Hidden Acrylic Shelf
Stylish Jewel Mahogany Podiums- A great looking addition to any lecture hall, conference room, or meeting place.
These stylish podiums feature a curved jewel mahogany front and flat rear panel. The spacious reading shelf (26.75"W x 17.5"D) provides all the room you need to deliver that amazing presentation. The reading shelf and sturdy base (26.75"W x 17.5"D) are crafted from medium density fiberboard (MDF) for a great look and lasting durability. The black anodized aluminum sides complete the stylish appearance look of these 47.25" tall lecturer podiums. The design also has a channel that allows the front and rear panels to easily snap in. Included is an acrylic shelf, which provides a hidden area to keep that beverage.
Specifications
Overall Width x Height x Depth 26.8" x 47.3" x 17.5"
Weight 85.0lbs
Material Laminated MDF, Aluminum
Color Black
Secondary Color Jewel Mahogany
Placement Style Floor Standing
Features Curved
Top Surface Width x Depth 26.8" x 17.5"
Ordering Information
We expect to have more in stock in approximately 12 days.
Truck/Freight Shipping Required
Due to the size and/or weight standard shipping is not available. Depending on the method selected please allow 2-14 business days for delivery.