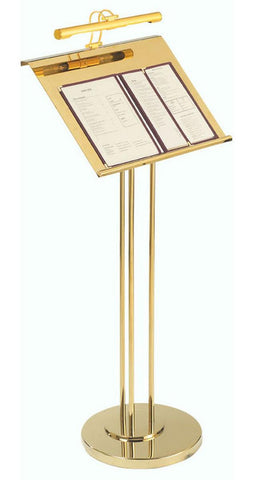 15" Podium for Floor with Lamp, Pedestal Design, Steel - Brass 19634
Lecterns Podiums with Lighting
Elegant design adds class to any entrance way
Subtle lighting illuminates the desktop
Small unobtrusive footprint
These lecterns podiums will welcome your customers with class. Perfect for seating arrangements or menu displays, the elegant look of this hostess stand is an enhancement to any location. These lecterns podiums are constructed of steel, available with a polished brass finish. The mirrored finish has a clean and upscale appearance for a touch of high class luxury. Restaurants and other dining facilities use these lecterns podiums as a hostess station. The sleek look of this portable stand is stunning yet practical, so it also works well as a conductor stand in an auditorium or music performance hall. Each of these lecterns podiums features a weighted base that helps to prevent tipping even due to incidental bumping. The large surface area of this stand allows employees to place all necessary seating charts and reservations on it for future reference.
These lecterns podiums, such as restaurant pulpits have a 13" long fluorescent light above the reading surface. This subtle lighting will illuminate the desktop surface. These lecterns podiums also feature a 1/2" lip with a rounded edge to keep a menu or daily specials list from sliding off. A 3 column body creates a graceful transition to the base of these portable pulpits. These lecterns podiums, such as pulpits, have a heavy base. A heavy base allows this lectern to have a small foot-print but still have stability while in use. Weighing less than 45 lbs., this podium can be moved by a single person. These lecterns podiums ship fully assembled.
Specifications
Brand Aarco
Overall Width x Height x Depth 15.0" x 48.0" x 22.0"
Base Diameter 12.5"
Weight 44.0lbs
Material Steel
Color Brass
Finish Polished
Placement Style Floor Standing
Power Cord Length 96.0"
Top Surface Width x Depth 15.0" x 22.0"
Ordering Information
In Stock
Delayed Shipment
Product does NOT ship on a same day basis.
Please add 3 business day(s) when determining the lead time.
Truck/Freight Shipping Required
Due to the size and/or weight standard shipping is not available. Depending on the method selected please allow 2-14 business days for delivery.