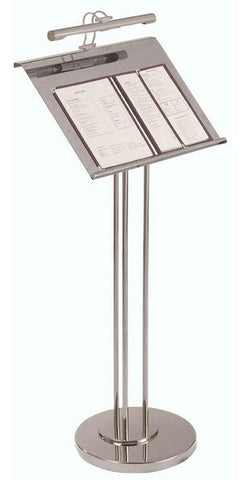 15" Podium for Floor with Lamp, Pedestal Design, Steel - Gray 19635
Lecterns Podiums with Polished Chrome Finish
Fluorescent Light Included
Small Footprint
3-Column Body
Ships Fully Assembled
These lecterns podiums are perfect for use as a ma?tre d stand in a restaurant front entryway. The chrome-colored fixtures measure 48 inches tall, which is the perfect height for a standing users to view seating charts and menu specials. At the top of each unit is a 13-inch-long fluorescent light for illuminating the reading surface. This is especially helpful when working in dark restaurants. These steel lecterns podiums have a small footprint; however the weighted round base keeps a fixture upright and in place at all times. No assembly required!
Specifications
Brand Aarco
Overall Width x Height x Depth 15.0" x 48.0" x 22.0"
Base Diameter 12.5"
Weight 44.0lbs
Material Steel
Color Chrome
Placement Style Floor Standing
Power Cord Length 96.0"
Top Surface Width x Depth 15.0" x 22.0"
Ordering Information
In Stock
Delayed Shipment
Product does NOT ship on a same day basis.
Please add 3 business day(s) when determining the lead time.
Truck/Freight Shipping Required
Due to the size and/or weight standard shipping is not available. Depending on the method selected please allow 2-14 business days for delivery.