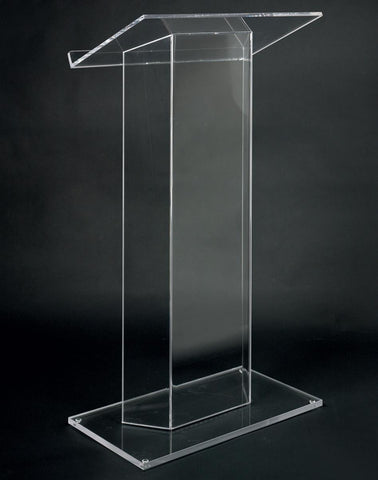 26-3/4" Clear Acrylic Podium for Floor, with Optional Shelf, Ships Assembled 19647
Lectern in a Standard Design Made of Acrylic
Arrives full assembled!
Clear plexiglas looks modern and fresh!
Set a drink on the accompanying shelf!
This lectern made of plexiglass makes a perfect church or meeting room display lectern. This clear lectern has a 1/2" thick plexiglass upright panel and top shelf. The solid base & mid-section on this lectern is manufactured from 3/4" plexiglass sheets and looks great on this 47" tall podium. This lectern also comes with an optional shelf to store your drink and other essentials. The lectern shelf is installed by putting the included clear pegs into pre-drilled holes in the mid section and resting the shelf on top of them. This lectern has a large reading surface with a 1" lip to keep your notes in place.
Special Note: For podium shipments particularly to the Central States and West Coast, the shipping charges you see prior to checkout will be higher than normal, and in some cases as much as the display itself. While this unit is a great value, we are on the East Coast and the product must be transported as a minimum charge freight shipment on a pallet.
Specifications
Overall Width x Height 26.8" x 47.0"
Base Width x Height x Depth 26.8" x 0.75" x 14.8"
Weight 80.0lbs
Material Acrylic
Color Clear
Placement Style Floor Standing
Features Ships Fully Assembled
Plastic / Acrylic Thickness 0.5"
Top Surface Width x Depth 26.8" x 14.3"
Book Stop Depth 1.0"
Ordering Information
In Stock
Order by 1:00 PM Eastern Time US for same day shipping.
Truck/Freight Shipping Required
Due to the size and/or weight standard shipping is not available. Depending on the method selected please allow 2-14 business days for delivery.