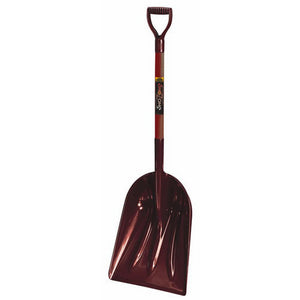 AMES 1680000 #12 POLY SCOOP WITH WOOD D-HANDLE POWER D-GRIP 17616
This True Temper lightweight poly scoop is perfect for moving & scooping grain, seed, feed, fertilizers, & other granulated materials. It's also a useful & versatile garden tool. It's sturdy enough for general clean-up or for moving mulch, soil or even sn. The inGrain Hog in scoop is made from a tough, highly durable thermoplastic called Cycolac ABS,Molded in ribs give the blade extra strength,Lightweight and easy to clean,27 in Power D handle,Rust free,
Size 12in, 14-1/4 inx 17-3/4 in blade.